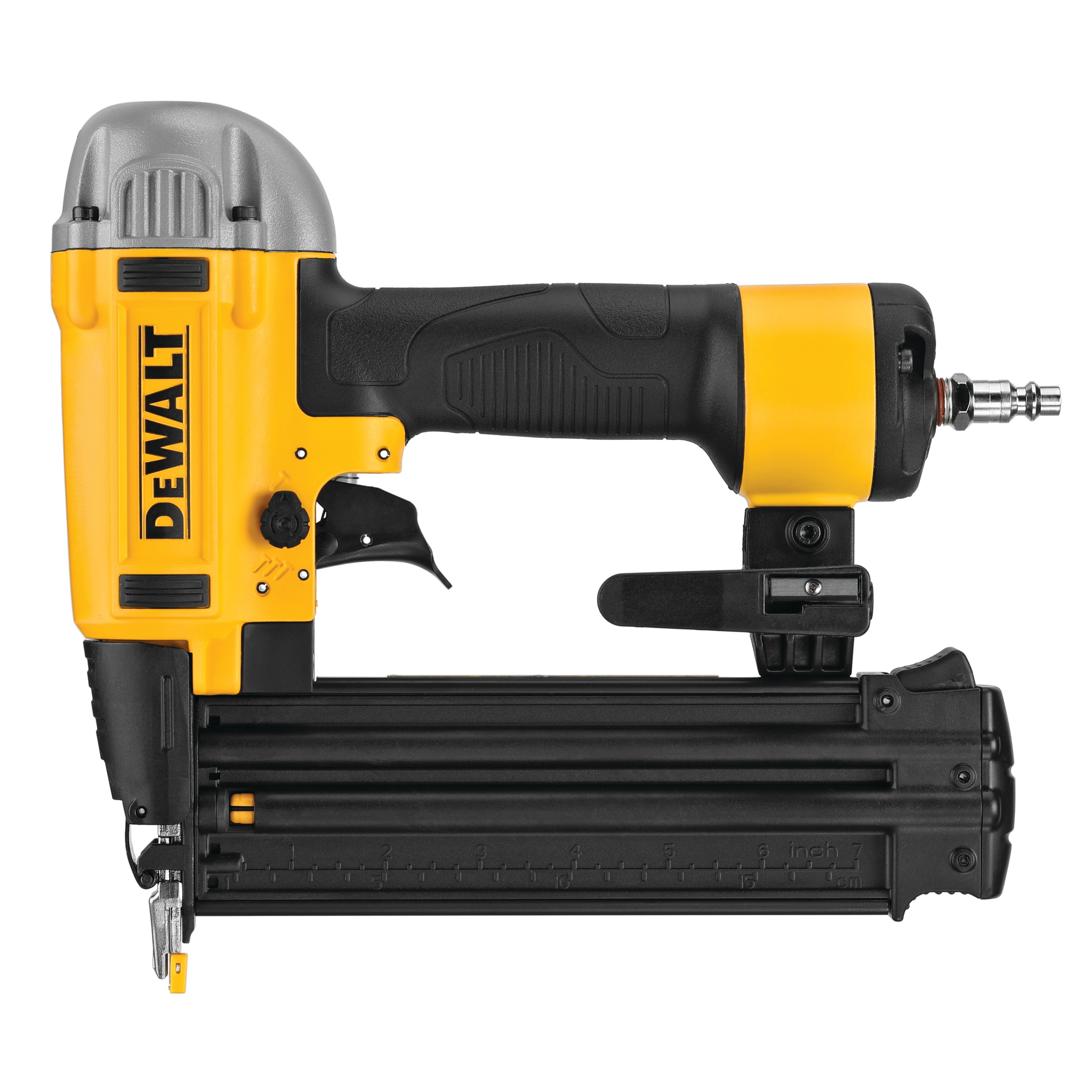 Since the new Dewalt DWFP12233 18GA Precision Point brad nailer hit the market in 2015, there has been ongoing confusion about whether it is different from DWFP12231 or the DWFP12233 is better than DWFP12231. Both brad nailers have unique and similar features that make them great 18-gauge brad nailers for their usability, performance, and quality.
Here is how these two great power tools deliver nailing and how to decide which brad nailer best suits your needs.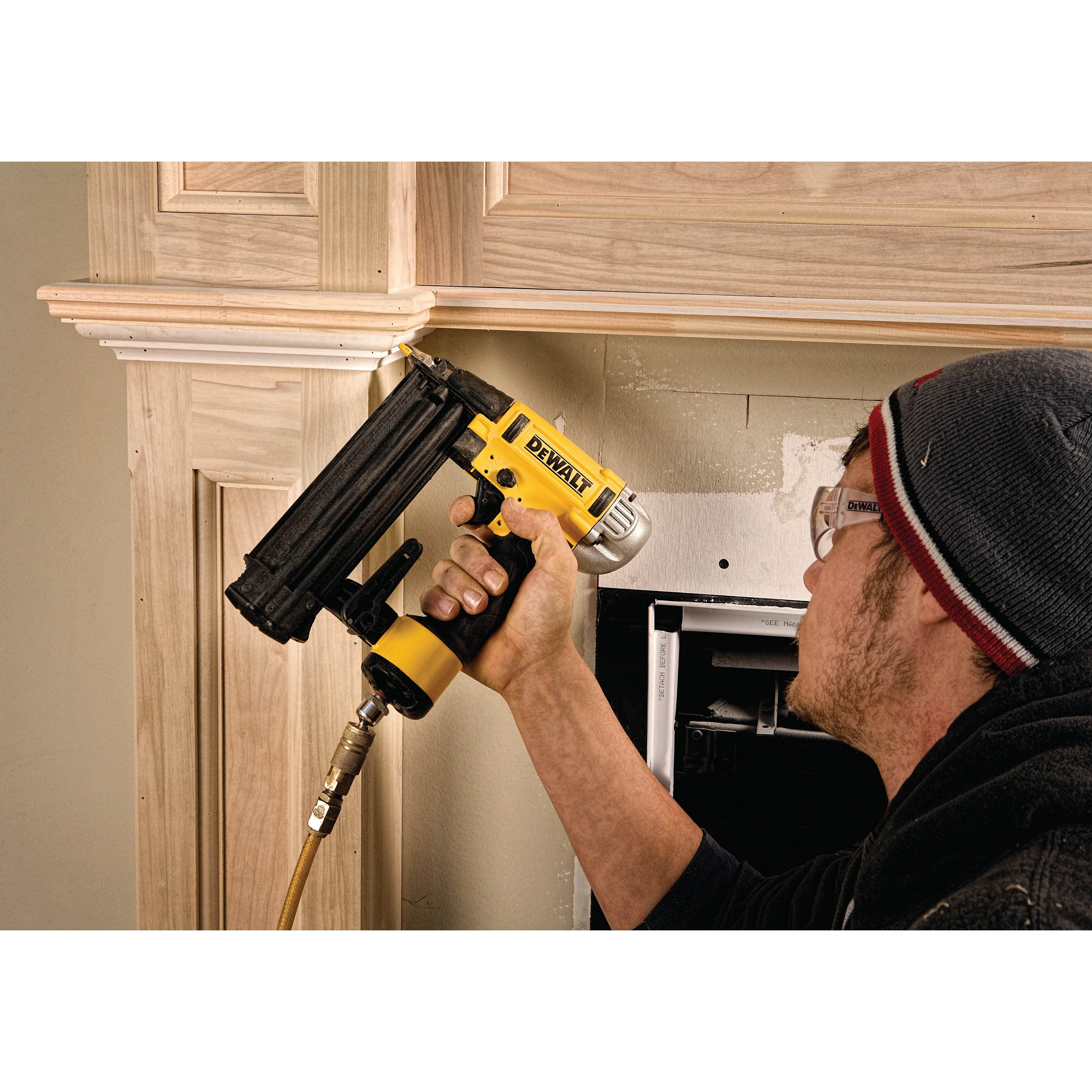 Is it worth buying Dewalt DWFP12233 instead of DWFP12231
Precise Nail Placement
The most apparent feature about DWFP122333 is it comes with a smaller nose piece that is 80% smaller than the available brad nailers. In addition, Precision PointÔäó Technology from the Dewalt gives DWFP12233 a clear advantage over DWFP12231 when working on finished carpentry and decorative trim.
You get a clear line of sight for precise nail placement and reduce the risk of damaging the work surface.
Nail and Trigger style
DWFP12233 drives 18-Gauge brad nails from 5/8 to 2-1/8 inches.
DWFP12231 can fire fasteners from 5/8 inches to 2-inch length.
Both models have a straight magazine with 100 nails capacity.
Two-step selectable triggers in DWFP1233 provide a dual option for the user to change the gun's actuation mode from single-fire to bump firing. Depending on the work surface and time, you can go for fast or steady nailing with this trigger.
On the other hand, DWFP12231 comes with a sequential trigger solely, limiting its use in a large project.
Regular Maintenance and Oiling
Usually, a pneumatic power tool requires routine cleaning and oiling to stay fully operational.
However, Dewalt DWFP12233 18 GA Precision PointÔäó brad nailer features oil-free operation and Long life maintenance-free motor to keep from staining the work surface.
The lack of oil is nice when working with painted surfaces. DIY and home users will find this feature handy as it removes the headache of rather tiring maintenance required for a pneumatic power tool in general.
DWFP12231 lacks oil-free operation.
Apart from the above-mentioned unique features of DWFP12233, there are equally critical features similar to DWFP12231. Check out the similar features and the comparison table below for a quick overview and differences between Dewalt DWFP12233 and DWFP12231.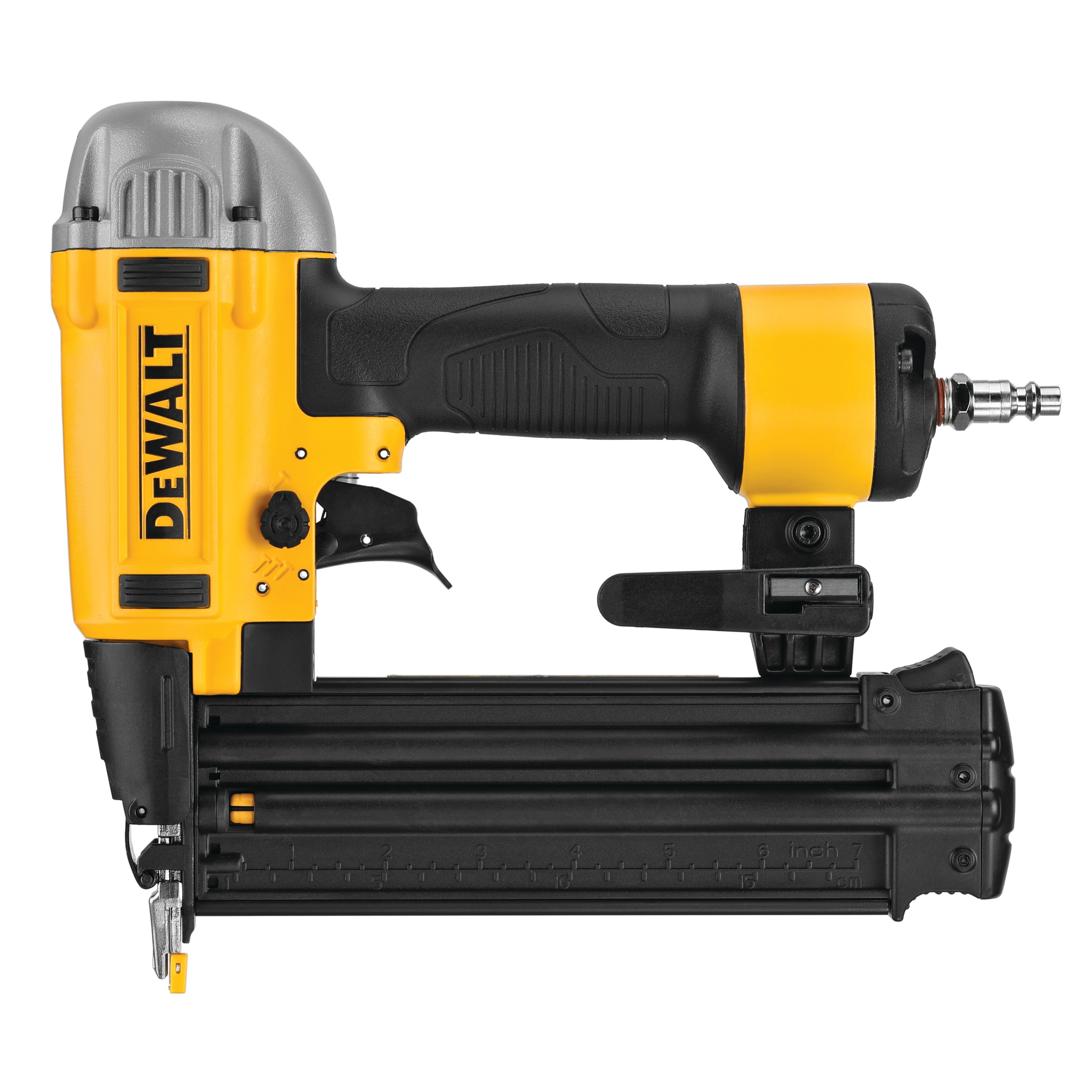 SPECIFICATIONS: DWFP12233 vs DWFP12231
Features
DWFP12233
DWFP12231
BELT / RAFTER HOOK
TRUE
TRUE
COLLATION TYPE
GLUE
GLUE
DEPTH ADJUSTMENT
TOOL FREE
TOOL FREE
DRY FIRE LOCKOUT
FALSE
FALSE
EXHAUST
REAR
REAR
FASTENER LENGTH
5/8 TO 2-1/8 IN
5/8 TO 2 IN
FASTENER TYPE / GAUGE:
18 GAUGE BRAD NAILS
18 GAUGE BRAD NAILS
FIRING / ACUTATION MODE
TOOL FREE SELECTABLE TRIGGER
SEQUENTIAL
GRIP
OVERMOLD
OVERMOLD
JAM CLEARANCE
TOOL FREE
TOOL FREE
MAGAZINE ANGLE
STRAIGHT
STRAIGHT
MAGAZINE CAPACITY
100
100
MAGAZINE LOADING
SIDE LOAD
SIDE LOAD
NO MAR PAD
TRUE
TRUE
OPERATING PRESSURE
70 – 120 PSI
70 – 120 PSI
POWER SOURCE
PNEUMATIC
PNEUMATIC
POWER TOOL TYPE
PNEUMATIC
PNEUMATIC
TOOL HEIGHT
9.5 IN
9.8 IN
TOOL LENGTH
11.3 IN
10.24 IN
TOOL WEIGHT
3.1 LBS
2.65 LBS
TOOL WIDTH
3.2 IN
2.68 IN
TRIGGER LOCK-OFF
FALSE
FALSE
INCLUDES
Kit Includes: Nailer, Fitting, Carrying Case,
and Extra No-Mar Tips
1/4 in. fitting
Carrying Case
INSTRUCTION MANUALS
DWFP12233 MANUAL
DWFP12231 MANUAL
DWFP12233 & DWFP12231 differences and similarities
Common Features
Dewalt 18-gauge brad nailer depth adjustment
Dewalt 18-gauge brad nailer depth adjustment
Often overlooked by many first-time buyers, depth-of-drive adjustment is a must-have feature in a brad nailer. Without a depth adjustment, you have to rely on your hand position to drive nails in shallow or in-depth. Having a tool-free depth adjustment makes depth-of-drive adjustment much more effortless. DWFP12233 and DWFP12231 both have a tool-free depth of drive adjustment for the proper setting of nail heads. In addition, with DWFP12231, the depth of drive adjustment is equipped with a detent for a precision setting of nail heads.
DWFP12233 vs. DWFP12231 loading and jam release
Dewalt has designed both brad nailers to be compatible with fasteners, loading style, and other standard functions. In addition, the DWFP12233 and DWFP12231 have side loading magazines. Finally, the tool-free jam release mechanism for easy nail removal is available for both models. Some older models from Dewalt and other brands require an Allan wrench for jammed nail removal, making your job difficult.
Notable Dewalt 18-gauge brad nailer feature that stands out
The ultra-quiet rear air exhaust keep contaminates away from work and your workpiece. A pencil sharpener onboard with DWFP12233 to sharpen your pencil is a nice addon. You will find a reversible belt hook on both models to hang the gun with your belt while on the move or resting. The no-mar tip is yet another nice feature of this nailer to protect your work surface. You can easily remove the no-mar cover if you don't need it and store it in built-in storage to keep it safe.
The DWFP12233 and DWFP12231 is pneumatic powered brad nailer. These nailers require operating pressure of 70-120 PSI to drive the nails with optimum nailing performance. A small or medium-sized air compressor can quickly generate the necessary power.
Final Thought
The Dewalt DWFP12233 brad nailer drives 18 gauge brad nails from 5/8″ to 2-1/8″ is an ideal choice for fastening decorative molding, casing, kitchen crown, and shoe molding. DWFP12231 can do the same, but precision point technology on DWFP12233 gives a definitive advantage when working in small delicate pieces and hard-to-reach spots. DWFP12233 is the clear winner between the two brad nailer model with the oil-free operation. With its long life, maintenance-free motor, the DWFP12231 is ready to work.